CustoMzone means CustoM 2.0's journal and it is…
It is our magazine to share the company's activities. In this issue, we talk about Custom Testing Cells, Legality Rating, Augmented Reality.
Hoping therefore to please, we wish you good reading!
Testing cells "turn-key solution"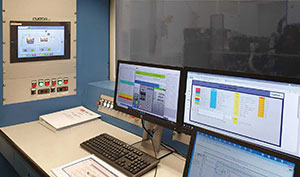 The evolution of Custom 2.0 in the supply of equipment for Testing and Validation continues.
Over the last few years, we have wanted to complement our traditional systems integrator profile with that of a complete solutions provider. This effort has led CustoM 2.0 to create Test Rooms complete with all the assets making up the cell: starting from the structure of the cell itself (also made of sound-absorbing material capable of managing large test temperature ranges), continuing with the supply of electrical power interlocking elements, in order to integrate the management of the cell systems and the safety system.
The realization of the projects is made possible by the competence and knowledge acquired during our thirty years of experience and by a solid network of partners and suppliers who cover all specific needs by providing tools and specialized operational support on all the elements that make up the Test Room.
---
Augmented Reality cartoon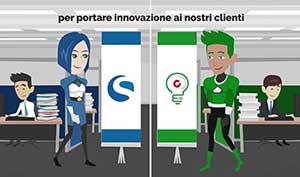 Nell'ambito del progetto Augmented Reality Project, il Partner Solve.it ha realizzato un Cartoon congiunto a fini Marketing in cui viene spiegata l'origine della Partnership ed i caratteri primari dell'usabilità delle applicazioni AR. Ringraziando gli Amici di Solve per l'ottimo e spiritoso risultato, lo proponiamo con piacere all'interno della nostra CustoMZone di Marzo 2021.
Guarda il video sul nostro canale Youtube
---
The Legality rating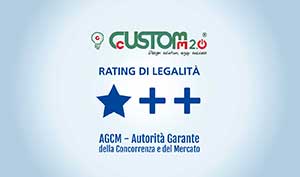 Legality, transparency, ethics, honesty are not only the foundations of a healthy society but also, for us, the best way to grow and work better.
Because we have chosen to join the initiative of the Italian Competition and Market Authority (AGCM) to promote ethical principles in corporate behaviour in Italy and reward the most virtuous realities, both economically and judicially.
The legality rating is not mandatory and is recognized for companies that have a minimum turnover of two million euros, have their headquarters in Italy and have been registered in the Business Register for at least two years.
The Guarantor Authority has recognized the diligence, transparency and legality in our activities, assigning us the legality rating with the score of "one-star ++", indicating that in addition to having met the minimum requirements, CustoM 2.0 has met another 2 additional requirements, to testify the commitment to the issue of corporate responsibility, in which the company is increasingly committed and active by promoting ethically correct actions.
It is a further step within a series of actions that we are taking to support our corporate responsibility, with a view to ethical commitment and maximum transparency.
It is a message that we as a company also want to give, clear and transparent: if legality wins, everyone wins and work better!
---
Data di pubblicazione: 31/03/2021
---